ADL Garage Doors supply automatic roller garage doors in Somerset, Bath & Bristol.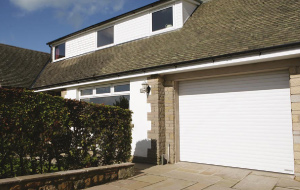 The world of Roller doors has fast developed into an exceptional part of the garage door market. Often the popular choice for customers wanting security for their home, combined with great style and ease of use. The simple, clean lines of the Roller door make them a timeless piece with the added benefit of a vast array of colours. The range available provides outstanding durability and long term performance.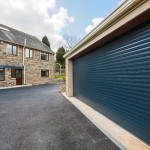 Spring assisted operation ensures doors are easy to use if chosen in a manual version. Radio controlled options (automatic) make operation effortless, doors are supplied with bottom rail compliant safety edges, internal wall units with courtesy light and manual override. The door is practical too – not only is it insulated, it operates vertically, thus allowing for 'park close' convenience inside and out.
They also provide maximum drive through width and height when compared to a conventional up and over door and frame, providing valuable space for customers with larger vehicles. All the Roller doors are made to measure allowing the door to fit in garages of all shapes and sizes.
"Combining great design and exceptional build quality, the Roller door range offers attractive, effortless protection for your home".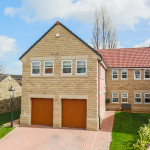 The wireless wall switch has now been introduced for our Alluguard range enabling you to operate your garage door from inside the house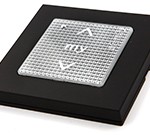 The anti-vandal key pad for secure garage door operation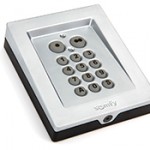 The compact handset allows simple operation.
For further details on roller doors please click on the links below
AlluGuard-brochure-July-2017-online