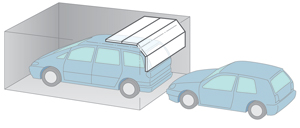 ADL Garage Doors offer a great range of Sectional garage doors in Somerset, Bath & Bristol.
The Sectional garage door is quite simply causing a revolution in the Garage door market. Sleek in design and movement, the Sectional door has many advantages over the long established up and over door.
The Sectional door is made up from separate sections rather than one single panel, thus allowing for exceptionally smooth operation both manually and also when electrically operated. Sectional Garage doors open vertically and are suspended under the ceiling to save space. This constructional principle means you can make full use of the space inside and in front of the garage for parking. Sectional Garage doors can be enhanced with the addition of an Automatic Opener making access to your garage as easy as a click of a button!
This is the only door to offer a flexible and weather resistant seal on all four sides of the door to keep out the wind and rain and boasts a variation of insulation from single skin to 42mm thick thermal insulation.
Your door can be unique to you and your home, by choosing from an array of colours, textures and accessories.
ADL Garage doors offer a great range of Sectional Garage doors in Somerset, Bath & Bristol.
Please click on the link below to view our Sectional door virtual showroom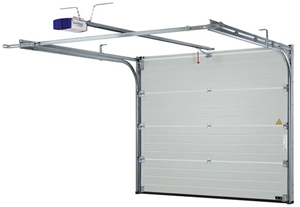 All of our sectional garage doors are covered with a comprehensive ten year warranty. Please contact our team if you would like to receive a quote or for more information on sectional garage doors in Somerset, Bath & Bristol.
A sample of the patterns and colours are shown below (more colour options available)
Georgian                        Georgian Red Windows            Georgian Golden Oak
Window options available with the Georgian door
Georgian Cross               Georgian Diamond       Georgian Sunrise
'L' Rib                                 'M' Rib                            'S' Rib windows
Window options with linear designs
Linear Standard X         Linear Standard XL   Linear Standard XS
Click the link below to view our sectional door brochures
 https://www.garador.co.uk/brochures.aspx
http://www.hormann.co.uk/products/garage-doors/sectional-garage-doors/